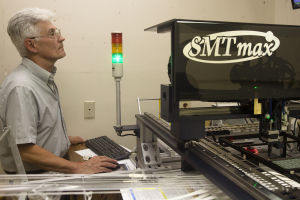 An Auburn-based company is one of eight Alabama companies to receive the Governor's Trade Excellence Awards for excelling in international trade.
Archangel Systems Inc., of Auburn, which develops, designs and manufactures sensing systems for air, land and sea-based applications, was honored.
Archangel is a world leader in the development and manufacturing of inertial sensing equipment, or, more specifically, micro-electromechanical systems (MEMS) inertial sensing equipment and systems. Aviation leaders such as Boeing, Elbit Systems, Marenco Swisshelicopter, branches of the United States military and the Australian Ministry of Defense are some of the company's clients.
In a 2013 interview with the Opelika-Auburn News, Archangel founder Michael Greene said of the company, "What we build here primarily are what's known as inertial measurement units, which go into various things that are used in aircrafts or submarines for stability or to measure their orientation."
Greene said they also perform custom engineering, meaning they make products or variations of products specifically for clients.
"They want a product that's sort of like what we have, but not exactly because they have very specific needs," he said. "What we'll do is some engineering work and turn it into a new product that is theirs."
House Speaker Mike Hubbard of Auburn joined Drs. Michael and Kitty Greene of Archangel at last week's ceremony where they were honored. He said they prove that "yet again, Auburn is a great place to do business."
"Drs. Michael and Kitty Greene are a prime example of the innovative, hardworking corporate citizens we are blessed to have in Lee County and deserve every honor bestowed upon them," he stated in an email.
Gov. Robert Bentley praised Archangel and the other companies in a press release.
"Alabama products are among the best in the country, and the companies recognized (Wednesday) show how successful Alabama products are reaching the global marketplace," Bentley said. "In 2013 Alabama exports total $19.3 billion, which represents a 57 percent increase since 2009. The Export Alabama Alliance is connecting Alabama companies with exciting new opportunities, and that's good business for this state."
Last year, Alabama companies shipped products from different industry sectors to nearly 200 countries worldwide. The top five export markets for Alabama companies included: Canada, China, Germany, Mexico and the United Kingdom.
Other recipients are:
» Aladdin Light Lift Inc. The Huntsville based company specializes in the production of a motorized winch system to raise and lower chandeliers or decorative lighting from high ceilings.
» ES Robbins Corp. The Muscle Shoals based company serves the office products, consumer products, equine fencing, food service and industrial supply industries.
» Fagerman Technologies Inc. The Somerville based company specializes in photogrammetric triangulation.
» Hornsby Steel Inc. This Cleveland based company specializes in the curving and bending of steel and other metals for all applications, including industrial, mining, shipbuilding, railroads, structural and architectural use.
» McWane Inc. This Birmingham based company is the largest manufacturer of waterworks products in the United States.
» Mitternight Inc. This Satsuma based production facility manufactures heat exchangers, chemical reactors, distillation columns and other pressure vessels for Fortune 500 customers around the world.
» PESA This Huntsville based company provides advanced audio/video Baseband and IP connectivity products.
"The companies honored here today make up an important component of the state's engine for growth, retention and job creation," Alabama Secretary of Commerce Greg Canfield said. "A sustained increase in exports plays a key role in Accelerate Alabama, the state's strategic plan for economic development."
The Governor's Trade Excellence Awards Program was established in 2005 to recognize Alabama manufacturers and service companies for excelling in international trade. The objectives of this program include identifying Alabama's successful exporters, promoting exporters as role models to the Alabama business community and increasing awareness of the impact of exporting on Alabama's economy.
The awards program is coordinated by the Alabama Department of Commerce and the Export Alabama Alliance. The program recognizes small, medium and large businesses, including new-to-export companies located throughout the state.
---

Posted: Saturday, March 8, 2014 | From Staff Reports