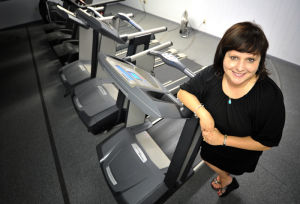 When Dwayne and Emily Tharpe started Firehouse Gym in 2007, they had no idea it would become so popular so fast.
The 24-hour gym, located at 1924 Wise Drive off Ross Clark Circle, grew from a few customers to hundreds not long after opening in 2007. The gym was an addition to the couple's karate studio they started in 2003.
To buy more equipment, the Tharpes turned to the Dothan-Houston County Microloan Program, a program that provides loans of about $4,000 to $20,000 to small, for-profit businesses to start or expand their companies or projects.
"The main thing we're looking for is to help people make some jobs," said Thomas Solomon, executive director of the Southeast Alabama Regional Planning and Development Commission, the organization that manages the program.
The microloan program got its start in the late 1990s with $200,000 in seed money from local banks, the Dothan Area Chamber of Commerce and the Wiregrass Foundation, said Matt Parker, president of the chamber.
At the time, Solomon said, businesses in the city weren't eligible for U.S. Department of Agriculture microloans. Dothan was too large of a city to qualify for the program, and banks weren't interested in loaning the small amounts needed by small businesses, he said.
The task force that created the microloan program included Solomon, Parker, Mike Schmitz, Mark Culver and Pat Thomas, Parker said.
Since then, about 50 businesses have benefited from the program, Solomon said.
"As the money comes back in (from the loans), it goes back into the pool to make additional loans," he said.
Most companies take out loans between $10,000 and $20,000, he said. The minimum loan is $4,000 and the maximum is usually about $20,000.
For the Tharpes, the microloan program offered welcome help at a time when they weren't sure how to proceed.
"When the gym took off, we were not expecting it," Emily Tharpe said. "We thought it would be small, and we'd be able to run the two (businesses) out of the same unit. Well, it grew, and so we needed more equipment."
"Gym equipment is kind of a goofy thing to try and get financing for because it's hard to assign value," she said. "It's not a good investment for a bank."
While the Tharpes could have financed equipment or used a credit card, the interest rates would cost too much.
Jeremy Pate, owner of Folklore Brewery, agreed.
Pate took out a small microloan recently to buy new kegs for his growing micro-brewery after Pate's second brew, Grateful Red, became popular and the City of Enterprise made draft beer legal.
"We had a keg shortage," he said.
Pate said he felt positive about the microloan program, because paying it off could go to help other small, local businesses.
---

July 18, 2014