WASHINGTON, D.C., May 2, 2014 — Chief economist for the National Federation of Independent Business (NFIB) William C. Dunkelberg, issued the following statement on April's job numbers, based on NFIB's monthly economic survey that will be released on Tuesday, May 13, 2014. The survey was conducted in April and reflects the responses of 1,699 sampled NFIB members:
THIS REPORT TEXT COMPARES APRIL FINDINGS TO MARCH FIGURES. CHARTS ARE QUARTERLY.
"NFIB owners increased employment by an average of 0.07 workers per firm in April (seasonally adjusted), weaker than March but the seventh positive month in a row and the best string of gains since 2006.  Seasonally adjusted, 13 percent of the owners (up 2 points) reported adding an average of 3.1 workers per firm over the past few months.  Offsetting that, 13 percent reduced employment (up 1 point) an average of 2.9 workers, producing the seasonally adjusted net gain of 0.07 workers per firm overall.
"The remaining 74 percent of owners made no net change in employment.  Fifty-one percent of the owners hired or tried to hire in the last three months and 41 percent reported few or no qualified applicants for open positions.
"Twenty-four percent of all owners reported job openings they could not fill in the current period (up 2 points).  This suggests that the unemployment could ease a tenth of a point or more.  Fourteen percent reported using temporary workers, up 1 point from March.
"Job creation plans reversed a recent negative trend and rose 3 percentage points to a seasonally adjusted net 8 percent, although still off from January's 12 percent.  Not seasonally adjusted, 20 percent plan to increase employment at their firm (down 1 point), and 4 percent plan reductions (down 2 points).
"Overall April looked a bit better as the country slowly "thawed" out from winter. However, while it is easy to make Mother Nature the scapegoat, not all of the U.S. experienced weather problems in the first quarter so, the weakness in employment and GDP growth can't be blamed entirely on an unusually harsh winter."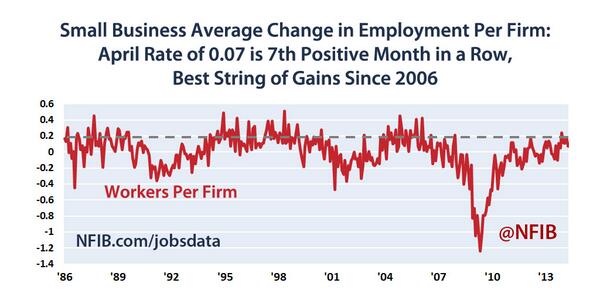 ###
Commemorating its 70th anniversary, the National Federation of Independent Business is the nation's leading small-business association, with offices in Washington, D.C., and all 50 state capitals. Founded in 1943 as a nonprofit, nonpartisan organization, NFIB gives small- and independent-business owners a voice in shaping the public policy issues that affect their business. NFIB's powerful network of grassroots activists sends its views directly to state and federal lawmakers through our unique member-only ballot, thus playing a critical role in supporting America's free enterprise system. NFIB's mission is to promote and protect the right of our members to own, operate and grow their businesses. More information about NFIB is available at www.NFIB.com/newsroom.
---
Date: May 02, 2014
www.NFIB.com
For Immediate Release
Contact: Kelly Hoffman, 202-314-2054 or Kelly.Hoffman@nfib.org