WASHINGTON, April 8, 2014- The latest Small Business Optimism Index rose 2 points to 93.4, mostly reversing the February decline but failing once again to breach the 95 ceiling that has capped the Index during the recovery.  Six of the Index components improved, two were unchanged, and two were lower.
"Overall, the March gain more or less reversed the February decline. While the Index still can't seem to get above 95, we can be encouraged that the economy is at least crawling forward and not heading in reverse," said NFIB chief economist Bill Dunkelberg. The outlook for real sales gains accounted for about half of the improvement with inventory satisfaction and inventory investment plans accounting for most of the rest. However, throughout this recovery we've seen these types of increases only to have them go nowhere. As long as Washington continues to ignore policies that could restore the middle class, job creation will continue to be sub-par."
A review of the March indicators is as follows:
•    Labor Markets. NFIB owners increased employment by an average of 0.18 workers per firm in March (seasonally adjusted), an improvement over February's 0.11 reading and the sixth positive month in a row.   There could be some weather effects still in the data, but some of the best job producing areas, the Southwest and West and Florida, did not have weather problems.  As spring rolls in, a better picture of the underlying strength of our labor markets will be revealed.
The remaining 77 percent of owners made no net change in employment.  Forty-nine percent of the owners hired or tried to hire in the last three months and 41 percent  reported few or no qualified applicants for open positions.
•   Job Creation. Twenty-two percent of all owners reported job openings they could not fill in the current period (unchanged).  Thirteen percent reported using temporary workers, unchanged from February.  Job creation plans softened further in February, falling 2 percentage points to a seasonally adjusted net 5 percent (compared to 12 percent in January).
•    Sales. The net percent of all owners (seasonally adjusted) reporting higher nominal sales in the past 3 months compared to the prior 3 months improved 2 points to a net negative 6 percent. With more firms experiencing lower sales than higher quarter over quarter, the weakness in sentiment is no surprise.  Fourteen percent cite weak sales as their top business problem, high but approaching levels experienced in "normal" times.
Expected real sales volumes posted a strong 9 point gain, rising to a net 12 percent of owners.  A solid improvement even though views about future business conditions remained very negative.   While still a historically weak reading, it is one of the very best in this recovery, which has been tepid for years.
•    Earnings and Wages. Earnings trends improved 3 points to a net negative 24 percent (net percent reporting quarter to quarter earnings trending higher or lower).   Rising labor costs are keeping pressure on earnings.  Two percent reported reduced worker compensation and 25 percent reported raising compensation, yielding a seasonally adjusted net 23 percent reporting higher worker compensation (up 4 points), the best readings since 2008.  A net seasonally adjusted 14 percent plan to raise compensation in the coming months, unchanged from February and the strongest reading since 2008 as well.  The reported gains in compensation are now solidly in the range typical of an economy with solid growth.  Hopefully this is a good sign.  With a net 23 percent raising compensation but a net 9 percent raising selling prices, it is easy to see why profits remain under pressure.  The issue is how much of the gains are in benefits rather than take-home pay.
•    Credit Markets. Credit continues to be a non-issue for small employers. In March only 5 percent of owners reported that all their credit needs were not met, 1 point above the record low.  Thirty percent reported all credit needs met, and 48 percent explicitly said they did not want a loan.  Only 2 percent reported that financing was their top business problem compared to 21 percent citing taxes, 21 percent citing regulations and red tape and 14 percent citing weak sales.
•    Capital Outlays. The percent of owners planning capital outlays in the next 3 to 6 months fell 1 point to 24 percent.  Eight percent characterized the current period as a good time to expand facilities, up 2 points.  Of the 58 percent of owners who said it was a bad time to expand, 22 percent still blamed the political environment, suggesting that at least for these owners, politicians are preventing their spending on expansion by failing to resolve or exacerbate important businesses issues including the healthcare law, taxes, regulations and red tape, minimum wage, etc.  The net percent of owners expecting better business conditions in six months was a net negative 18 percent, only 1 point better than February, and a very dismal reading.   This is not an outlook conducive to a substantial pickup in capital spending and expansion.
•    Inventories.
•    The pace of inventory reduction picked up speed, with a net negative 6 percent of all owners reporting growth in inventories (seasonally adjusted), 4 points lower than February.   Reductions are good if in response to strong sales, but not so good if it is in response to weak sales. Owners are satisfying orders with existing inventory but not ordering new stocks.
•    The net percent of owners viewing current inventory stocks as "too low" rose 4 points to a net 0 percent, a positive development. Sales trends did improve a bit, although remained historically weak and probably not enough to substantially reduce inventories.  The strong improvement in expected real sales (above) may have produced a more favorable assessment of current stocks (too low) and the need to rebuild.  The net percent of owners planning to add to inventory stocks rose 6 points to a net 1 percent, a positive for new orders for inventory.
•    Inflation.  Twelve percent of the NFIB owners reported reducing their average selling prices in the past 3 months (down 3 points), and 23 percent reported price increases (up 4 points).  Seasonally adjusted, the net percent of owners raising selling prices was a net 9 percent, up 8 points.  Only 3 percent plan reductions (unchanged), far fewer than actual reported reductions. Seasonally adjusted, a net 19 percent plan price hikes (down 4 points).  If successful, the economy may see a bit more "inflation".
Today's report is based on the responses of 685 randomly sampled small businesses in NFIB's membership, surveyed throughout the month of March. Download the complete study at http://www.nfib.com/sbetindex.
*All net percentages seasonally adjusted unless otherwise noted. The net percentage is the percent with a favorable response less the percent of owners with an unfavorable response.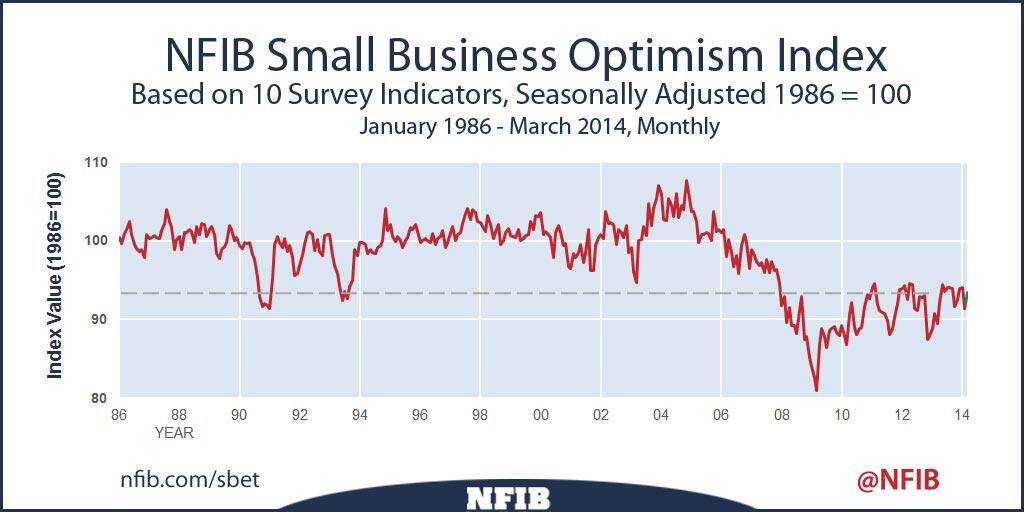 ###
NFIB's Small Business Economic Trends is a monthly survey of small-business owners' plans and opinions. Decision makers at the federal, state and local levels actively monitor these reports, ensuring that the voice of small business is heard. The NFIB Research Foundation conducts some of the most comprehensive research of small-business issues in the nation. The National Federation of Independent Business is the nation's leading small-business association. A nonprofit, nonpartisan organization founded in 1943, NFIB represents the consensus views of its members in Washington, D.C., and all 50 state capitals.
---
EMBARGOED UNTIL TUESDAY,
April 8, 2014       Kelly Hoffman 202-314-2054 (media)
HOLD UNTIL 7:30 A.M. ET     Holly Wade 202-314-2022 (research)