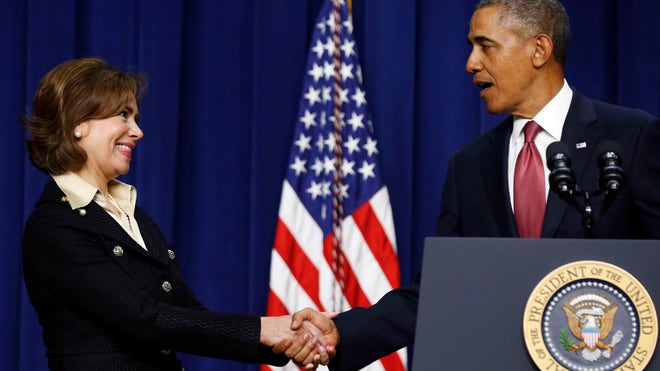 The Small Business Administration finally has a leader. On Thursday, the Senate confirmed former community banker Maria Contreras-Sweet to be the new administrator for the SBA.
The confirmation comes 13 months after former administrator Karen Mills announced her resignation. Since Mills stepped down in August, a number of acting administrators have filled her shoes, most recently Marianne O'Brien Markowitz, a former regional director for the SBA.
Much of the business community applauded Contreras-Sweet's confirmation.
"Ms. Contreras-Sweet brings with her a strong background in business lending and will serve SBA's core competencies well," said the National Small Business Association in a statement. Prior to her nomination, Contreras-Sweet had founded and served as chairwoman of ProAmerica Bank, a commercial bank focused on providing loans to Latino entrepreneurs.
The International Franchise Association also voiced its support. "Maria Contreras-Sweet's impressive background in the public and private sector will ensure the administration fills the long-standing void left by former Administrator Karen Mills, who was a strong champion for the small business community and the franchise industry on a multitude of public policy issues," said IFA president Steve Caldeira.
Earlier this year, both the National Association for the Self-Employed and the National Association of Development Companies gave the thumbs up to Contreras-Sweet.
However, business leaders also acknowledged the significant challenges facing Contreras-Sweet as she begins her role as SBA Administrator, especially given the agency's recent lack of permanent leadership.
"The SBA provides many critical resources for America's small businesses, from lending programs to technical assistance to federal contracting support," said NSBA President and CEO Todd McCracken. "It is high time the SBA have a permanent, Senate-confirmed Administrator to move the agency forward."
The Small Business & Entrepreneurship Council was more pointed in its concerns. Yesterday, the House Small Business Committee voted to alter the SBA's proposed budget.
"SBE Council looks forward to working with Administrator Contreras-Sweet. I encourage the new Administrator to reach out to the small business community immediately as she will be challenged with getting the agency back on track and focusing on its core mission," said Small Business & Entrepreneurship Council president Karen Kerrigan.
"The House Small Business Committee voted unanimously yesterday to alter the SBA's proposed budget. The plan as well as SBA operations were strongly criticized by both parties for wasting money through mission creep and instituting programs that are duplicative or not authorized by Congress. So as the SBA went on whims with new programs, its core ones suffered," added Kerrigan.
Kerrigan also said she hopes Contreras-Sweet will spend less time pushing ObamaCare, and more time working to cut back on regulations that hurt small businesses.
The NFIB declined to comment on Contreras-Sweet's confirmation or her nomination earlier this year.
---