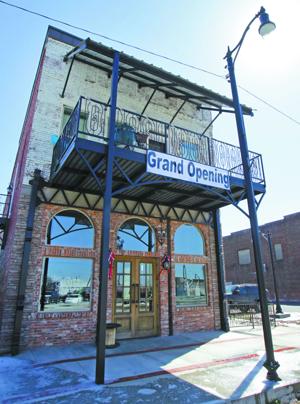 Mayor Ian Sanford is intimately familiar with the growth Sheffield is enjoying, and he wants to see it continue.
He also realizes there's a need for an organization that can help existing small businesses and those that have recently opened in the city.
While the city is not equipped to take on the task, Sanford said he'll gladly help get the organization up and running along with help from the Shoals Chamber of Commerce.
The chamber recently held "Small Business, Big Ideas: A Focus On The Future of Sheffield," a breakfast event to discuss the needs of small businesses in the city. The event was part of the chamber's five-year "Turn It Up!" campaign.
"Florence has Downtown Florence Unlimited and lots of groups for businesses to get together and talk," said Chelsea Kauchick, director of membership and marketing at the chamber. "Sheffield mentioned they don't have a group like that."
Sanford said business people in Sheffield want to create such an organization, and Kauchick said the chamber will help them do it.
She said the organization will provide a way for business people to get together and discuss ways to promote Sheffield businesses and strengthen the business community.
Downtown Sheffield is enjoying another growth spurt with the opening of several new businesses and more on the way.
Loquita Logan has recently opened the clothing store Zoey Belle's downtown while her son has opened Sheffield Hardware across the street on Montgomery Avenue. Logan is in the process of renovating another building that will house a Christian book store and coffee shop.
Ashley Collins has opened The Rak, a women's clothing boutique a block south in a building owned by developer Danny Hardeman, who continues to build downtown loft apartments.
"Downtown has a lot of things going on," Kauchick said.
Sanford said the organization will not just be about downtown. He wants it to include business owners from all over Sheffield. He also expects to see new growth along Second Street and other parts of the city.
"There are a lot of creative people here," Sanford said. "I want everybody to know one another and what they can do to help each other network."
He would also like to see the new organization work on events that will attract people to downtown Sheffield.
"The wackier the better," Sanford said.
The mayor said the organization would be geared toward existing businesses, but would also be a resource prospective business owners could utilize.
"For me, it's all about networking," Sanford said.
Kauchick said the listening session involved an open forum in which city officials, small business owners and other organizations addressed ways to boost awareness and communication about what's going on in Sheffield.
"We're doing great things in Sheffield," Sanford said. "We just need to make sure people are aware of it."
Kauchick said 27 people attended the event and Sanford said he has about 20 people he plans to talk to about forming the organization.
Logan attended the breakfast and said she'd be willing to be a part of the new organization and believes it will be a valuable resource to Sheffield businesses.
"I have ideas and there are other people who would willing to be on it as well," Logan said. "We need to bring more people to this area."
Logan said she not only wants to see more new businesses come to Sheffield, but also more shoppers and visitors.
"It has to be a group effort," Logan said.
---

March 8, 2015
By Russ Corey Staff Writer | Russ Corey can be reached at 256-740-5738 or russ.corey@TimesDaily.com. Follow on Twitter @TD_RussCorey