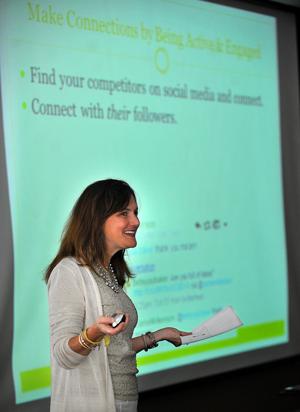 Social media can be a very useful and valuable tool for small businesses looking to increase their visibility and customer base.
A workshop hosted at the Dothan Area Chamber of Commerce on Wednesday was organized to provide information to small business owners on what steps they can take to achieve those goals.
The chamber welcomed Judy Callin, director of the Small Business Development Center and Procurement Technical Assistance Center at Troy University, as well as speakers Kathryn Cariglino, who spoke on using email to promote a business; Betsy Baker, who spoke on social media marketing; and Rob Beene, who discussed how smartphone apps can benefit small businesses.
"We (the Small Business Development Center) cover 10 counties in southeast Alabama and our mission is to improve the success rate of small businesses," Callin said. "We do that through training and one-on-one counseling."
Callin said small businesses generally don't have a large budget for advertising or marketing, but the creative use of social media can help with that issue.
"In today's economy, small businesses don't have a big budget for marketing and social media and email marketing is free, so a lot of businesses realize that they need to be more active in that area but they don't know how," she said.
As technology continues to change and evolve, Callin said it's important for people to stay up-to-date on the latest in social media and other technology that can positively impact their business.
Callin said some people may get overwhelmed by the amount of social media options that are available now, but it's best to focus on just two or three avenues of social media, such as Facebook, Twitter and LinkedIn.
If using a site like Facebook to promote your business, Baker said it's important to engage with fans of your page and become a part of related groups and engage with those groups.
She said it should be more about building relationships and connecting than direct promotion. Also incorporating photos and video can help draw attention to your posts.
On Twitter, she said it's a good idea to follow and connect with people within your industry, whether they're organizations, similar businesses or individuals associated with the business.
Most people, she said, when they see you have something in common, will follow you back and therefore help build your follower base.
Beene is the owner of Wiregrass Apps, which builds smartphone apps for local business. Beene said apps are not just something for the big industries anymore. They're something small businesses can utilize on a local level.
For example, if a store is having a special sale, a push notification can be sent via the app to anyone within a specified range of the store.
Having an app or a mobile-friendly site, he said, also helps in terms of Google searches.
Beene said a recent study found that more Google searches are made from mobile phones than on desktops, which illustrates just how important it is to make sure there is also a mobile friendly version of your small businesses' website.
Mobile versions of websites can be created through free or low cost mobile-site-design services. Another option is building your site so that is easily readable on a small screen, such as putting important information at the top and creating large links and print for readability.
Callin and her team have done several similar workshops throughout the area and what she really enjoys about the events is the people she gets to meet and see what they're doing with their businesses.
"Getting to know people and watching them start a business and grow a business is so fulfilling," she said.
Lexie Aldridge, of the Dothan Houston County Library System, said she attended the workshop to learn new ways that social media can help the library and their Small Business Resource Center.
She said she really enjoyed learning about the ways they can use social media for branding purposes and the different tips that she said would work well with the library and help them better promote their programs.
"I think it's a great way to learn what's out there because how else are you going to grow your business other than coming to workshops like this," Aldridge said. "I think it's a great service that the chamber provides."
---

March 25, 2015
Carly Omenhiser | Business Reporter