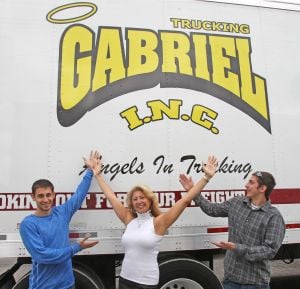 Nelly Gabriel said she does not know what it means to not be determined to accomplish something.
Perhaps that's why she came to Florence in 1997 and founded a trucking company in a male-dominated industry.
"I was determined to make it work," Gabriel said. "Nobody knew me, but I thought it was a good place to start a business. I loved the area and fell in love with Florence.
"I think maybe I have an angel watching over me. I have a strong faith in God and he told me Florence was the place."
Since opening Gabriel Trucking, she has watched it grow to 11 trucks and 15 employees. She has also helped her two sons start trucking businesses.
"The business has been very good to me," Gabriel said. "You've got to be dedicated. You get out of it what you put into it. Most days I'm here by 7 and stay until 7 or 8 at night, and that's true for the weekends, too."
Nationally, the number of women-owned businesses has increased 68 percent since 1997, according to the fourth annual American Express OPEN State of the Women-Owned Businesses Report. Alabama is ranked eighth in the growth of the number of firms over the past 17 years. That's an increase of 76 percent during that time.
"Alabama is doing less in existing companies adding new employees, but it is ramping up the number of firms owned by women," said Julie Weeks, research advisor for the study. "New firms are getting started as opposed to older firms getting larger."
Weeks also said more women are getting involved in businesses not traditionally owned by women, such as Gabriel's trucking company.
"It's definitely a male-dominated industry," Gabriel said of the trucking business. "But I've never had a problem. I've always had respect for my drivers and clients. Being a woman may have actually opened doors."
Alabama has an estimated 122,400 women-owned firms, employing 101,800 people and contributing roughly $16.7 billion to the economy, according to the report.
Wanda Myrick started her business in a non-traditional field in 1976 in Russellville. Myrick owns Abstract and Appraisal Services, which she said is the only full abstract company in Franklin County.
"At that time (1976), people trusted a man more than they did a woman," Myrick said. "It took years to earn respect for things that people did not think I knew what I was doing.
"But I do appreciate the people who have trusted us and used us over the years."
Myrick said a woman should carefully consider everything before starting a business.
"It's according to what kind of business you want to start," she said. "There are a lot of benefits to owning your own business, but when the money isn't there you're the one who doesn't get paid."
Myrick said one benefit is the ability to take off when needed, like when you need to take your child to the doctor.
"But when the economy is rough, you really have to tighten your belt," Myrick said.
Weeks said minority-owned firms are growing at a much faster rate. Today, one in three new women-owned businesses are held by minorities, according to Weeks. That number was one in six 17 years ago.
"There's new opportunity more and more for women of color," Weeks said. "Women overall are getting more managerial experience, building up skills and expanding their professional network. They think, 'I could be doing this for myself.'"
Weeks said women looking to open a business should follow their passion.
"Get some guidance and support," Weeks said. "There's a lot more support available today. You have to be really passionate about it because you have to live and breathe the business 24/7."
Leslie Keys started a women's clothing shop, Audie Mescal, 12 years ago in Tuscumbia. She recently opened a men's clothing store, Leo Martin.
"I didn't feel like I struggled because I was a woman, it was just the nature of the business that made it not as easy to get funding for it," Keys said. "Small boutiques were kind of iffy."
Keys said she has enjoyed success.
"I have women contacting me, asking me questions and I've given my copy of a business plan to others to help them get started," Keys said. "I kind of feel like women feel more easier about starting a business than they used to."
Keys said a number of women-owned businesses are in the Main Street area of Tuscumbia.
"There's a misconception that there's a lot of freedom," Keys said. "Owning your own business is a lot of work. One benefit is I get to do the one thing that I love. But owning your own business sometimes owns you."
Weeks said women's business centers and other resources are available.
Gabriel points back to determination as being a key to success.
"Anything you do, work hard," Gabriel said. "I've never been afraid to work hard."
---

May 5, 2014
By Wayne Smith Staff Writer
Wayne Smith can be reached at 256-740-5746 or wayne.smith@TimesDaily.com. Follow on Twitter @TD_WayneSmith.